Minnesota Timberwolves All-Star forward Kevin Love is trying to force his way out of town, and the maneuvering has fans around the NBA in heated debate about whether or not Love is worth mortgaging the Timberwolves' future by trying to lure him back with tricky offseason moves.
There's been a strange, swirling discussion around Love all season that has intensified as we draw closer to the 2014 NBA Draft and July's free agency period. After six seasons, it's no secret that Love wants to win, preferably in a larger market than Minneapolis can offer.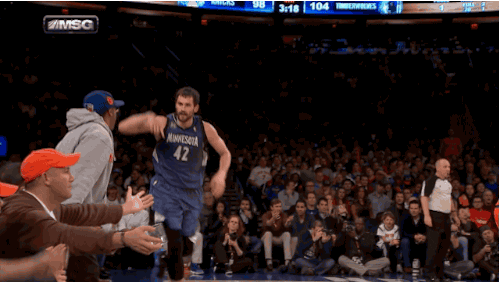 New York, perhaps?
That's brought discussions around the power forward to a tipping point. Despite his scoring, rebounding, passing ability and three-point shooting, Love's middling defense has turned armchair general managers into discerning statesman, unwilling to offer a hefty payout for a one-way player.
Enter LaMarcus Aldridge.
Portland's big man is, admittedly, no defensive stalwart. His numbers and ability have improved over his career, and with the addition of Robin Lopez last year, the pressure for him to perform on that end of the floor has been drastically reduced.
This has had an effect on his ability on the offensive end of the floor. As the Trail Blazers found their way to a 54-28 record in 2013-14, Aldridge's numbers slowly crept up. Despite a sky-high usage rate of 29.8 percent, Portland's All-Star forward had career-bests in turnover percentage, rebounding percentage and had a player efficiency rating of 21.8, a team-best.
Largely due to the arrival of Lopez, Aldridge put on a season of a lifetime, finishing 10th in MVP voting and breaking a 14-year second-round playoff drought. That's why it's so important for a team -- including the Timberwolves -- to scoop up Love.
His offensive talents and rebounding ability are unique. Having a big man that can pass the ball the way he does opens up a lot of options on offense, and can make up for skills some other players might not have. Think about how Joakim Noah ran Chicago's offense from the high post this season after Derrick Rose went down.
Yes, Love is a bit of a puzzle on defense. Through his first six seasons, his defensive rating and defensive win shares are somewhat comparable to Aldridge. This year, he produced similar points per-play numbers as Aldridge, both in defending the post and the pick-and-roll. Is he good? Not really. Is he terrible? Absolutely not.
That's why the conversation around Love has been blown entirely out of proportion. One and sometimes even two superstars are not enough to push teams into playoff contention year-after-year in the NBA. Minnesota hasn't built much around him, and having to defend by yourself in this league is something only the elite can do on a nightly basis.
It's possible for Love to make the same offensive jump that Aldridge did this season. His offensive talent and potential far outweigh his defensive struggles. But as the league has turned to black-and-white analysis, it's been hard for many to commit to the idea of leveraging the future to keep him, even as teams around the league amass assets to do that very thing.
He's not just good, and he's not quite elite. In a land of hyperbole, Kevin Love is very good. That is why he's worth it.