Editor's Note: Our old friend Dane Carbaugh has promised to return from time to time with his musings. Though we know you're well-stocked with Willy Raedy and Chris Lucia and Evans Clinchy and Scott Horlbeck and Ryan A Chase and Sam T...aw heck, with everybody on staff we just can't turn down a good Dane Carbaugh piece. So here you go!
Talk around the Trail Blazers this season once again has centered around the bench depth. Guards Will Barton and C.J. McCollum will have to pick up the slack left by the departed Mo Williams, and the feeling around Portland is that Barton could be next to burst out for the Blazers. This sentiment was even echoed by the Jazz broadcast crew on Tuesday, and the third-year guard has looked more disciplined in recent, limited action.
Barton has made some gains since his rookie season. Thanks in part to Terry Stotts' offense, Barton's offensive presence was far more stable in 2013-14. He improved his 3-point shooting, reduced his turnover rate and as a result, produced a respectable 103 points produced per-100 possessions. In games toward the end of the season, Barton gradually made better choices off the dribble, looking to pass early rather than his accustomed leap-into-the-air-then-look-around signature move.
This culminated in national recognition when he exploded for 17 points on 7-of-13 shooting in Game 4 of the Western Conference Semifinals against the eventual champion San Antonio Spurs.
Despite some solid improvements, Barton's ability to step into a major role for the Blazers is largely in question and much of that has to do with his shooting. Last year, he shot just 42 percent from the field and and was ineffective from beyond the arc, resulting in defenses collapsing on him in the paint.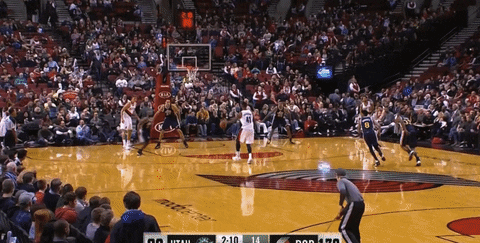 The young guard's shot selection actually took a step backward in 2013-14 where he increased the amount of long 2s he took over his rookie season. Barton shot 27 percent of his jumpers last year from that range where he put in just 22 percent of his shots, something that had to drive Stotts absolutely bananas.
Barton's shot selection was further exacerbated by his inability to get to the free throw line. Without much of a 3-point shot and an obvious comfort in relying on his drive, Barton's lack of strength and poor attack angles got him to the line just 20 percent of the time, less than even Meyers Leonard.
Over the offseason, Barton has obviously put in some work to try and correct this. First, his broken shot needed re-tooled and it appears that he's gone through great lengths to do so.
In 2013-14, Barton's elbow was out, his feet were wide and his left hand was almost on top of the ball. He also exhibited poor form vertically, often with his legs straying from side-to-side or front-to-back in what is known as a "sway" in coaching circles.
During FanFest and the first preseason game against the Utah Jazz, Barton's effort to change in form was noticeable. His feet were locked together and his right elbow looked at times to be more inline with the basket. However, his left hand was still nearly on top of the ball, something that might be hard for him to overcome in one season.
I'm not entirely convinced that holding the ball strangely is necessarily a bad thing. Damian Lillard exhibits some atypical quirks with his shot, including holding the ball in front of his face and a really strange re-grip mid-shot, and no one is asking him to stop shooting. Shot mechanics are not the only thing that makes a good shooter, and Barton will need minutes outside of garbage time to tell whether his shot reconstruction will help his percentages.
There's been much consideration about whether Barton will be able to step up and handle the ball as a point guard, which seems unlikely given his skill set, talent and the Blazers' roster. Barton actually played less on the ball last season than he did his rookie year, playing a third of his minutes at small forward where before he had been used almost exclusively at guard. With the smaller McCollum competing for minutes, it's unlikely Barton squeezes out the second-year guard from Lehigh at that position.
When it comes down to it, Barton's flaws from last season are so severe that it's still hard to imagine him making such a large leap year-to-year. He reminds me bit of Jarryd Bayless; he's an exciting, athletic bench player that will need a few seasons to learn the discipline necessary to be deserving of rotation minutes, especially for a playoff contender like Portland.
Unlike Bayless, Barton isn't adept at getting to the free throw line and that means he will have to make up for it in other ways. At 6-6 and with a wingspan of 6-9.75, Barton's physical measurements are better than even Chicago's Jimmy Butler. The Bulls' SG is much stronger, and Barton's slight frame will mean he has to either get better as a decision-maker on the defensive end of the floor or add a smooth shooting stroke to his game to bring enough to the table for considerable minutes.
Portland is in an unenviable spot of not only wanting Barton to take a leap, but needing him to be ready to contribute to the bench unit if new pickups Steve Blake and Chris Kaman can't carry the load. The Blazers still lack depth, and if Barton can step up it will be a welcome addition to Portland's rise up the ladder in the Western Conference.
The Trail Blazers have several factors that will be far more important to the success of their season than Barton, including the health of their starting five, which played in 397 of an available 410 regular season games last year. Just about every starter had a career year, and even Lillard's ability on the defensive end of the floor in his third season might be a bigger factor than either Barton or McCollum.