I have been thinking of a few reasons that I think the Blazers will beat the Mavericks in round one of the playoffs. Some of the reasons are echoed over and over by radio hosts and the like. Here are a few reasons that I haven't heard anybody else mention.
1. Defending the Mavs endgame strategy- At the end of games it seems like the Mavs strategy revolves around one main play which is the Jason Terry, Dirk Nowitzki pick and roll. This is a tough play to defend for many teams because they only have a couple options for defending it. They can switch, leaving a point guard or shooting guard on Dirk and a big on Terry, which gives the Mavs a large advantage. They can try to fight through the screen and stay with their guy, but a well executed screen gets the defenders out of position and gives Terry an opening to drive or shoot. The last is that the big man guarding Dirk hedges out to slow Terry while his guy gets around the pick, but if Dirk pops out that gives him an open midrange J which is his bread and butter. Now that we have Gerald Wallace on the team we have the ideal personnel to defend this play, however. Batum and Gerald Wallace are of a rare breed, versatile defenders who are fast enough to guard a point guard, but still big enough to guard a Power Forward. All they have to do is put Batum on Terry and Crash on Dirk and switch all screens. This way you never have a large mismatch against Dirk and Terry and are never out of position dealing with the screens.
2. Lamarcus Aldridge's mom- I read the other day on twitter a tweet mentioning that LA was happy they got Dallas because his mom is too ill to fly and there she can watch his games. I think that this will be huge for LA's confidence and desire to play as well as possible in our away games. I think this may result in him trying to get in the paint and go beast mode more often, as he will want his mom to see him play well in the playoffs and win a playoff series.
 3. If you bite Dirk Nowitzki on the elbow he will cry and leave- If one of the blazers players, preferrably Gerald because he looks like he would have good bite strength, would bite Dirk on his elbow and make him bleed his own blood he will leave the game. Carl Landry already exposed this weakness. Of course that time he got a tooth lodged in him, but still Andre Miller could have somebody's whole grill shanked into his bow and he'd tell coach to call a full timeout, ask for some tweezers, and get back out there. Dirk is a soft little baby who is floppy like Gumby, and if a blazer bites him on his elbow meat he will tell them they are not invited to his birthday and run off the court weeping.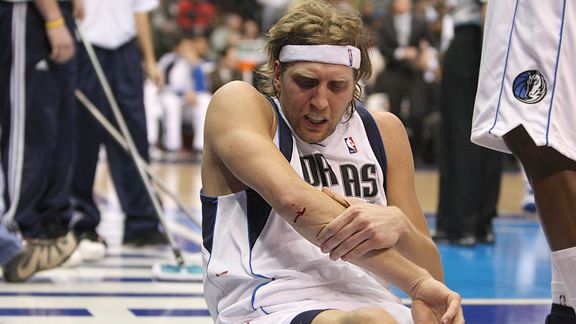 This is why I think this series is a sure win for the best team in the universe. Tell me what you guys think.