We have been enjoying the 3 goggles for months now .....but an underlying problem still exists. As you can see from Casey's piece about the origin of this fun pastime, the practice of 3 goggles started last year after is was discovered that Rudy has a vision problem and Patty was ribbing him about in a comradely way. As I was chuckling merrily (which I do regularly) at this anecdote..all of a sudden, I said: Hey wait a minute!!! Vision problems?...for a three point shooter? That is bad. Plus Rudy's 3 point shooting has been pretty sub-par for the last few months too..Coincidence? I don't think so!

Conversely at the same time his 2 point shooting percentage is beginning to increase. This can be explained by an increase in driving inside but now I realized that these drives are really just attempts to get closer to the basket in an effort to see it clearly. In fact as I began questioning all this, it dawned on me that I had solved one of the big mysteries of the off-season too ...let me explain.
Last summer the big Blazer story was not Oden or Roy's knees.....no the story was Rudy's stated wish to go back to Europe. What does Europe have that Portland doesn't? (I don't mean bad teeth..although this is also true)? A closer three point line, that's what!! If Rudy went home he could still hit the tres...and then head straight to his own home in blurry bliss. Ah-ha!   OK So why hasn't this problem been taken care of? It is simple of course...just get glasses. Obviously it is vanity. Now I understand ...believe me I get it...his face is a moneymaker...not unlike Tom Cruise or Lyle Lovett...but still...Rudy is a professional basketeer....he needs them specs. Stat!  
Listen Rudy, if you are out there, let me tell you glasses aren't that bad. You can still get women....smart nerdy women....but women none the less. I sent a photo of you to a photo shop expert that I know to simulate what you would look like with glasses ..this is what he came up with. See, not too bad, right?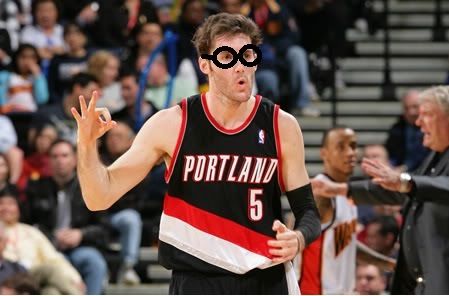 Here are some other well known Spaniards who wear glasses  
via www.blogcdn.com
via t3.gstatic.com


  It can work out fine....don't worry. Plus I have a coupon from Binyon's I can give you