DrivetheLane and I ventured to Phoenix on Friday to watch the Blazers take on the Suns. Despite being on the second night of a back to back (we were, too!), and playing on KGW, the Blazers won. I got a new camera last week, and boy did I use it. Apparently the second time we made the TV screen, I'm taking a picture. Ha, no surprise. Here's the first time (no, all you hecklers, we weren't bored, there's a stop in play here, we can't cheer continuously!)
via www.gifninja.com
US Airways Center is conveniently located downtown, right off the light rail. On game nights, it's a hopping place. On the Saturday after game nights, not so much. We encountered a fair number of Blazer fans; many stopped to chat.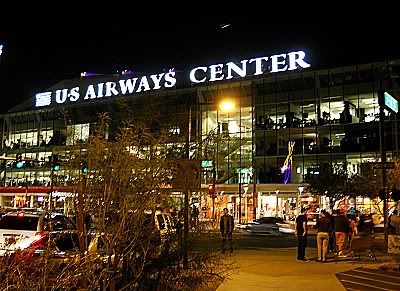 We knew we had good seats, but I still thought there were three rows of seats ahead of us. Turns out, there was the Blazers bench, the coaches behind the Blazers bench, random five foot gap, then us. We were on the corner, but still, we were pretty amazed.  Here's our view of the bench. We got there about 6, and Andre, Patty and Dante were the only ones warming up.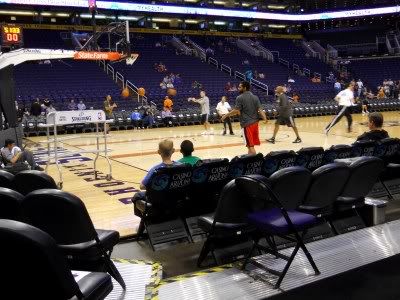 At about 6:30, Rich Cho came by. He gave us a nice smile; he really does look 16. Here's a fuzzy view of Rich on approach.  They checked his credential, I guess he's still new.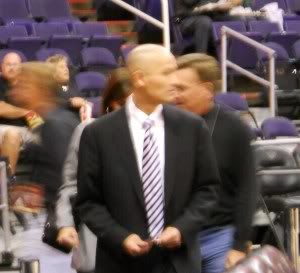 My new camera hates all movement, so many of my photos of Blazers are fuzzy. I'm very fond of this one; it shows Rudy's warmup pants tucked into his socks. Maybe it's a Euro thing. Plus, you know, Brandon Roy.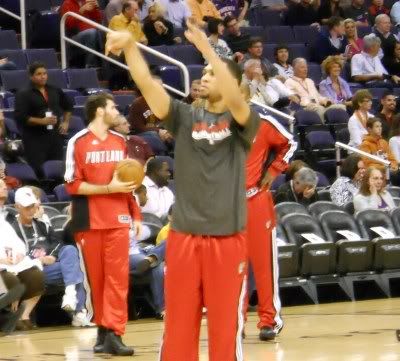 Aww, look at how cute DTL is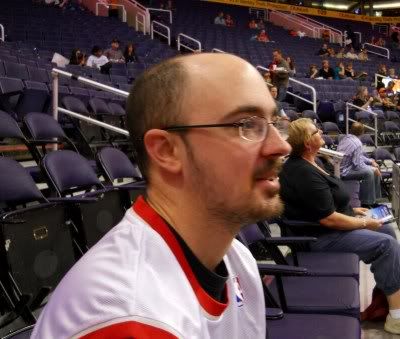 Our nice usher Bob took this one: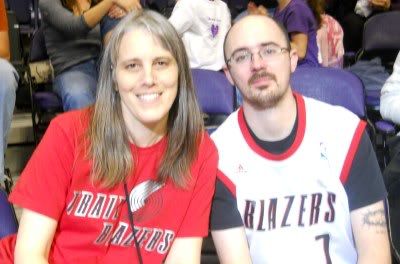 The game was fun. As everyone notes, the Rose Garden has exceptional stat boards. The Suns' were not as extensive, and they had to rotate what was shown. I also learned that it's a lot easier to look at the stat board and big screen from the 300 level than courtside. It was a sacrifice I was willing to make. The action also seemed a lot faster from courtside. We marveled at how fast many passes seemed: of course one of those sailed out of bounds, and another hit Wesley Matthews in the nose, so maybe they were just bad passes.
The Blazers played well, or perhaps the Suns just played really badly, but it made for fun watching. Marcus Camby was everywhere, and Roy looked good. I cheered really hard for Rudy to hit a three every time he touched the ball, but alas, I did not seem to help. 
The Suns fans were quiet through a lot of the game, but there wasn't a whole lot to cheer for. When the Suns made their little run to just almost get back in it, the crowd cheered impressively.  We got heckled very mildly, but most people were friendly. Channing Frye called Suns fans "the best fans in the NBA." Liar.
Hey, this one's pretty clear. Don't know how that happened.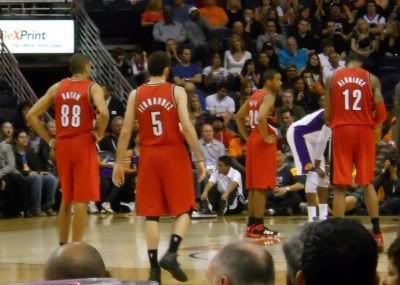 After the game, even though he thinks such shots are cliche and a little stupid, DTL took my picture in front of the court. When we started, Marcus Camby was standing behind me, but, well, it's a new camera, so it took a bit to get this photo taken; Marcus was gone.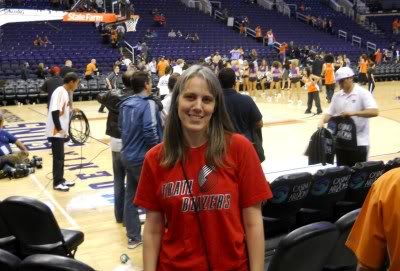 On Saturday we explored Phoenix. I forgot my camera in the hotel, so you'll be spared the photos I would have taken of DTL standing in front of saguaro cacti and such. Also, the photo of the Circle K that would have made the title into "DTL and 323's Excellent Adventure in Phoenix."
But here's one closing shot. Christmas in the desert: